With the Tangatapu Wetland restoration on the Rawhiti Peninsular well underway, we've now set their sights on Kerikeri's Wairoa Stream, starting with a fun Community Planting Day that was held on Sunday 23rd June.

The Wairoa Stream starts near Mt Pokaka Pa (at the top of Bulls Gorge), skirts the eastern fringe of central Kerikeri, runs under the bridge on Cobham Road, along the back of Kerikeri Primary School and into the Kerikeri Inlet. The stream was a travel route of historical significance to both Maori and European settlers.
Although several landowners along the Wairoa Stream are already planting and caring for their portion of the stream margin, major restoration work began with this Community Planting Day. 1500 native trees and shrubs were planted along 300m of stream bank either side of Cobham Road Bridge.
The day started with a Karakia and Waiata provided by Ngati Rehia, giving the history of the stream. Volunteers were then serenaded by local musicians and kept fed with coffee, muffins, sausage sizzle and the hugely popular banana-cinnamon sizzle.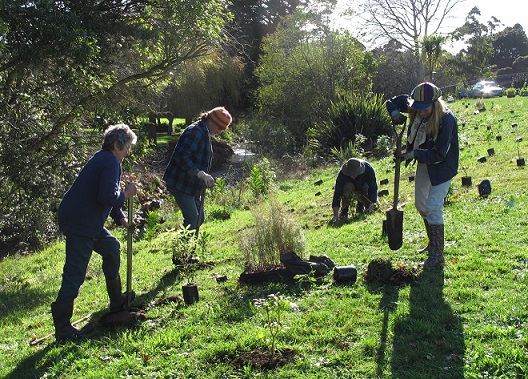 The Wairoa Stream Restoration is being carried out in collaboration with Vision Kerikeri, Ngati Rehia, The Shade House Volunteers, DOC volunteers, and Kerikeri Primary School.
We would like to thank the project sponsors: Orchard Estate, Northland Regional Council, and Far North Holdings Limited, and give a special thank you to Ngati Rehia and Rangimarie Mules for their cultural leadership and guidance.
And of course our appreciation goes out to all the volunteers and those that helped to make it such a fun and memorable day.
Remember to check out photos on our facebook page!