Twenty eight enthusiastic people attended our World Wetlands Day celebration on Sunday the 9th of February. The guided walk took the group through some of the habitats and ecosystems of the Eastern Bay of Islands, showing them the creatures that live within them and how these systems are inter-related.
Guided by Chris Richmond and ably supported by John Booth, the group began by walking across the intertidal mudflats at Parekura Bay. Chris showed how snapper and eagle rays dug out mini-craters in the sand searching for a feed of cockles. He also used a large sieve to strain out the creatures in the sand, including cockles, crabs and worms.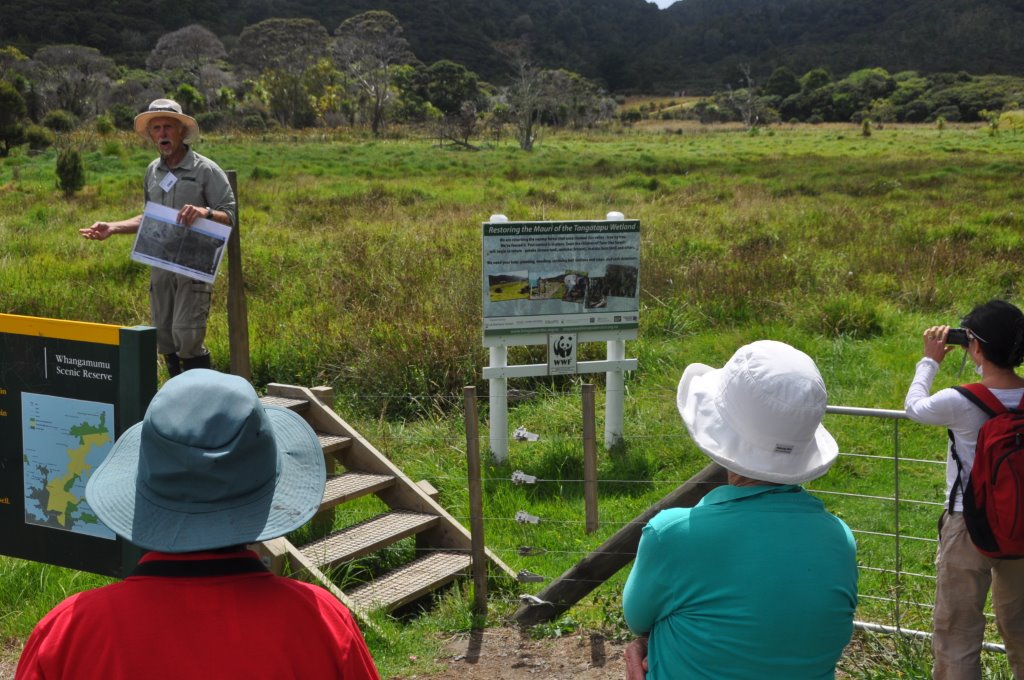 Master birder Lindsay Alexander pointed out the seabirds busy feeding on the Parekura Bay sandflats, such as oyster catchers, pied stilts, terns, white faced heron, NZ dotterel and seagulls.
The former sea grass beds have vanished but the area is still an important feeding and breeding ground. Hopefully the sea grass will return once the river systems draining into the bay are restored and siltation is minimalised.
Moving around the coast to the start of the Whangamumu track on the Rawhiti Peninsular, Chris explained the long term vision of the Tangatapu Wetland Restoration project, which aims to restore a degraded, drained and grazed floodplain back to its original Kahikatea swamp forest. The group learnt about the floodplain and wetland types and saw remnants of the old Kahikatea swamp forest, then walked amongst the flourishing 2012 and 2013 plantings.
After a restorative lunch the group split and headed in three different directions. One group kayaked down the stream through the oioi rushes and mangrove forest which use to be home to the endangered Pateke (brown teal). The second more energetic group walked over to Whangamumu Beach for a swim. The third group were treated to some tales of the past from local writer and scientist John Booth and Shelley Te Nana who grew up at Tangatapu. Shelley reminisced how as a child she would dive in the deep stream at Tangatapu, which is now narrow and clogged. She remembered all the large family gatherings on the upper flood plains; how she and her siblings would run off over grassy hills (now forested) to Whangamumu in the morning and a neighbour would bring the kids fresh bread and jam.
To top off the day, everyone returned to base camp for a hearty Devonshire tea made by Ruth Marsh (Chair of Living Water) to exchange stories of the afternoon activities and their own restoration projects.
Thanks to our guides and to everyone who came for contributing to such a memorable and successful World Wetlands Day celebration.
There is a follow-up tending day planned shortly at Tangatapu - please contact Sandra Scowen if you are interested in getting involved (This email address is being protected from spambots. You need JavaScript enabled to view it.).