Tangatapu Wetland Restoration 2014 – Our Vision Begins to Take Shape

This is the third year of planting to restore the ecology of the Tangatapu wetland at the start of the
Whangamumu walking track on Rawhiti
(Cape Brett) Peninsular
in the Eastern
Bay of Islands.
Facilitated by Living Waters Bay of Islands ~ Wai Ora, it is part of a mosaic of projects restoring the ecology and communities in the eastern Bay of Islands. The degraded wetland is gradually being transformed into a Kahikatea swamp forest and the adjoining slip-prone hillside is being stabilised with hardy natives. One objective of this restoration is to attract the return of native birdlife, especially the endangered Pateke (brown teal duck). This year we took a major step toward making this happen and created ponds in the old meander channels. This is the story of making the ponds and this year's planting.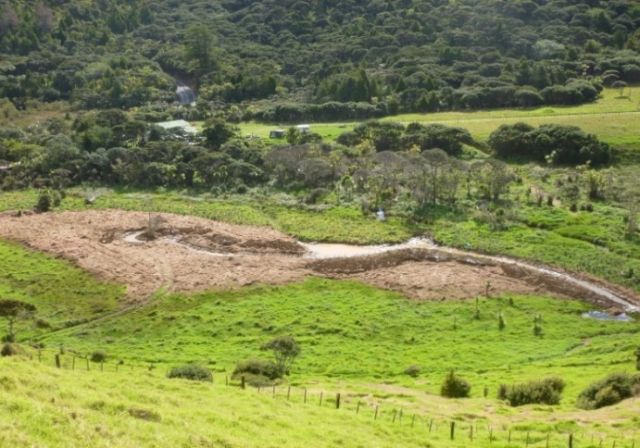 On 10 May, our first planting day this year, we planted 3800 plants in the wetland.
Forty five people attended and many veteran planters commented that it was the most
organised planting day ever and that the preparation had made planting easy!
Here is the Kahikatea grove being planted with the hillside prepared for planting in the background.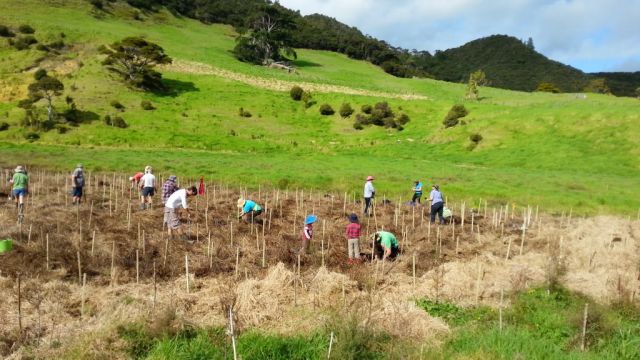 So what did Living Waters do to prepare? First the thigh-deep kikuyu was killed and ponds were formed by digger. But the dead kikuyu was still too thick for a spade to penetrate so the local fire brigade assisted with a controlled fire to burn if off. This still left behind a mass of dead kikuyu strings, so each planting spot was cut into the wetland by weedeater. All of this preparation made easier digging for our planters. Because the vision is full ecological restoration, plants were carefully placed and colour-coded according to habitat. Wooden stakes for manuka and pre-placed kahikatea, swamp maire, hoheria and puriri. Colour-coded bamboo stakes were set out for carex secta, umbrella sedge, cabbage trees and flax, which all received plant protectors, protecting them from cheeky Pukeko uprooting them.
A thunderstorm around midday, sent us under cover for lunch and great conversation. Rain didn't last long and a watery sun drew us out planting again. The plant protectors were time consuming (3 bamboos stakes threaded into a soft plastic tube). When the 3rd thunderstorm came through many people went home leaving a few plants for the Northland Corrections Employment team to complete planting in the following days. But what a satisfying view at the end of a long day!!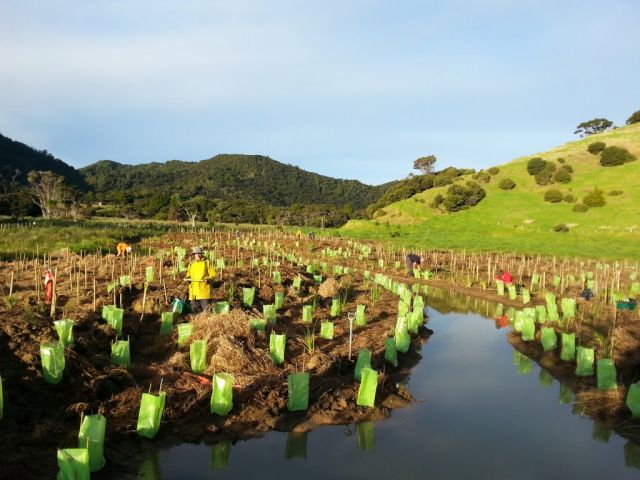 Our second planting day on May 25th threatened by a dubious forecast was carried off by 30 keen planters who came from as far away as Kerikeri and Auckland. Another 2000 trees were planted on the hillside – the hardy kanuka and coprosma sp. along with specimen trees of pohutukawa, puriri, rewarewa, kawaka, totara and many others.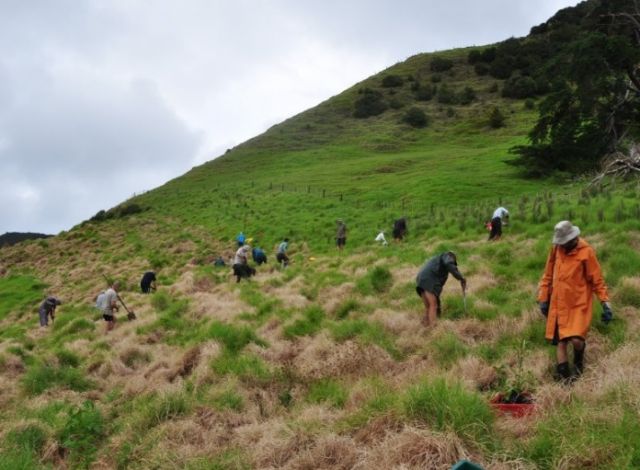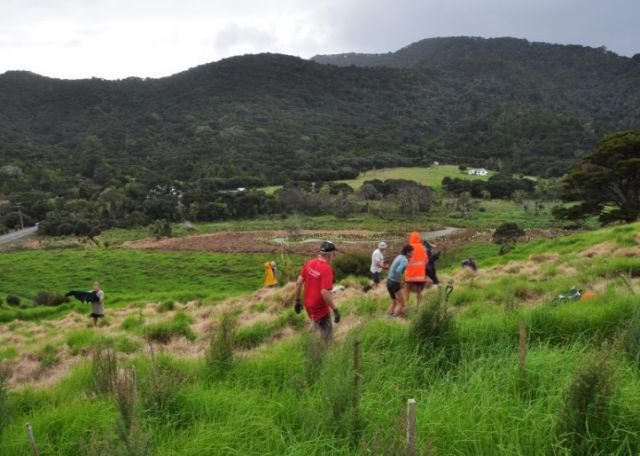 We are grateful for our many volunteers and contributors who support us to make this happen.